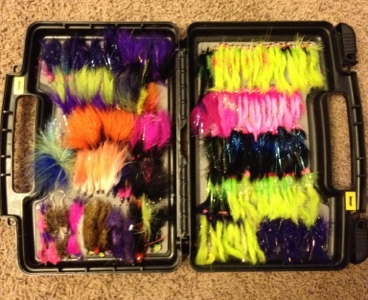 Tying flies and getting ready for the Kenai river silver salmon fly fishing this fall.
Large fly boxes are great for the boat but remember to let them air out at night so that your hooks don't rust. It could get really expensive if you have the box full of flies.
Umpqua's large boat box is now equipped with anti rust technology. I hope that it helps in our harsh Alaska weather!
Silver salmon on the Fly can be very productive.  I have seen the Fly out fish tackle many times.  It is a different presentation to the fish and with the right pattern and color can be deadly.  One of my favorite patterns is a dark brown leach.  I'm a huge fan of natural colors but there are days that bright colors will work best too.  I think this is one of my most favorite silver salmon fly fishing pictures.  It shows everything that i can't tell you about fly fishing for silver salmon.  Like any fish we have to work for them harder some days others but if you are a proficient caster I believe we can get you into some fish.
Tight lines,
Scott Sager
Www.driftingonthefly.com