Kenai river rainbow trout fishing continues to be off the hook.  I am noticing the change from the kenai river rainbow trout following the king salmon spawn to following the pink salmon spawn now.  Our technique will not change but our fishing locations are switched up a bit when this happens.  Keeping in tune with what is going on with the river keeps you into fish. Bent rods means happy clients and that is our main goal here at Drifting on the Fly.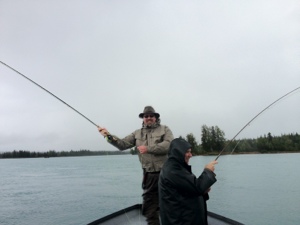 Drift boat fishing is a great way to fish kenai river rainbow trout but when the river is big the power boats are legal it is a great option for reworking productive runs.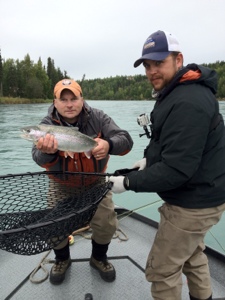 Keep a large rubber net under every fish I intend on releasing help in keeping them from ending up in the floor of the boat.
Taking a break from a great morning to have a little lunch. The fishing is good because these anglers refuse to eat or drink if their arms are not sore at lunch time.  I love the experience that fishing gives to people.  The camaraderie and sportsmanship that plays out almost everyday I am at work makes my job not work at all.
Tight lines
Scott Sager
contact us here