The trip was a success yesterday. The day started off by walking the river, fishing our way down down stream. Fishing was very slow until the tide change in the afternoon. Once this happened fishing was excellent. I didn't get any pictures of fish today because there was so many bears around. Once the fish showed up the bears showed up. The guys couldn't believe the experience they where getting and came back with some heavy poundage of silver salmon.  We are off to fish rainbow trout on the Kenai river.  The number one policy of any remote Alaska fly out fishing trip is safety first fishing second.  If you are on a fly out with us and bears approach the stream to fish we will back off until they are a safe distance away.  This will ensure that they don't look to humans as a source of a easy meal and we disturb their natural habits as little as possible.
Tight lines
Scott Sager
Www.driftingonthefly.com
A family outing for some Alaska fly out fishing adventures!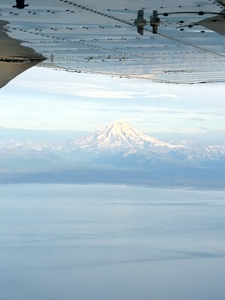 Bush Plane rides are always exciting.  I've been fortunate enough to fly in most regions of the state and every time I get up in the air I am at awe.  The only way to really see Alaska is to see it from the air.  You start to realize just how big the state is.