The Alaska fishing season is over for us here at Drifting on the Fly now.  The cool 5 am mornings are now replaced with well below freezing temps, wind and snow now for months ahead. My 2012 season is over here in Alaska and I look forward to next years Alaska fishing season already. I
While getting my gear in order for the long winter ahead I was able to slip out and enjoy the kenai river for a couple afternoons. The fishing was incredible and I hated to leave it.
Here are a couple pictures from my last day on the Kenai river fly fishing for rainbow trout and steelhead my last few days of the 2012 season.
I caught this steelhead on the Anchor river using a six weight z axis switch rod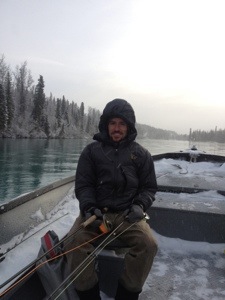 Brian of Wilderness Way looks a little chilli as we motor back up stream for another drift.  We had an epic day on the river today and I look forward to getting back out there next spring.  Who knows maybe there will be a 20 Pound fish on the end of my line next time?
Tight lines,
Scott Sager